Trans~Personal Swimming ~*~
Aquatic Programs with Awareness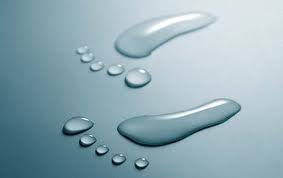 footprints



Walking on Water {a Bengali tale}
A holy man was once meditating on the bank of a river, when another holy man wanted to impress him with the extraordinary powers he had achieved through his ascetic practices, so he came towards him, walking on the water.

When he reached the place where the first holy man was quietly sitting he said, "Did you see what I just did?"


"Oh yes, I saw you come across the river walking on the water. Where did you learn that?"

"I practiced yoga and penances for twelve years in the foothills of the Himalayas, standing on one leg, fasting six days of the week. And so I acquired this power."

"REALLY?" Said the first holy man. "Why did you go to all that trouble to do this? Our ferryman here will ferry you across any day for two pennies."

from Folktales from INDIA
A selection of ORAL TALES from Twenty Two Languages
Edited and with an Introduction by A.K. Ramanuajan



I BELIEVE WHETHER YOU LIVE ALONGSIDE OF THE WATER or NOT...
YOU CAN DEVELOP A LOVE OF THE WATER,
And learn to swim despite your sense of ambivalence.
Since human beings are made up of approximately 80% water like our planet earth,
to enter the river is like returning to the womb...
It's a place to find comfort unlike any other place...
Consider the following, if you will.

I offer Swimming lessons & Aquatic Movement ~~
Learning to LOVE the WATER, adapting, as you OVERCOME YOUR FEARS is possible...
I enjoy sharing my love of the water and giving instructions to "ordinary, everyday common folks"

I started to think about this and realized I have the following qualifications!
~~ For over 45 years I have been teaching people to swim... or to overcome their fears and become water safe...
~~ I have taught people ranging from beginning levels including new beginners and the fearful,
to refining advanced stroke technique...
~~ I have over 25 years of coaching competitive swimming with a USA Competitive Swim Team...
I have recently retired from position with the Wildwood Crest Dolphins age-group swim team and overtime I will begin to decrease my focus on competitive swimming so that I will have more time to pursue what I believe will utilize my talents to a greater degree...
But please if you want information about competitive swimming I highly recommend our local USA AGE GROUP SWIM TEAM...
http://www.wwcswim.org
OR IF YOU WANT TO PURSUE private instruction please contact me at my email address:
kaivalyabound@yahoo.com


During the years I coached the majority of my experience included the responsibility of handling developmental athletes of all ages and younger swimmers...
~~ I have worked with challenged individuals to include, autism, dysapraxia, hearing and visually impaired, mentally challenged and ADHD and stroke patients along with other acute and chronic health issues as starters, although I feel we are all unique with our own stories, especially when it comes to water!
~~ I have logged over 20 years of teaching aquatic movement classes... managing classes with over 75 people in one class.
~~ I have logged over 105 recreational open water dive as an open water certified scuba diver in the past 23 years...
~~ Teaching swimming is something that is in my blood!
~~ I have become the master of techniques that I have both developed & refined to aid your progress...
So although you will not walk on water...
I think we will have fun :-)


There are a myriad of reasons why people should learn to swim, and just as many as to why they don't.
Among the top reasons are they like to have their feet on the ground... or they are afraid of the DEEP END...
The conclusive data doesn't lie. We are made with built in swimmies in the form of our lungs.
We can fill ourselves up with AIR... for more conclusive scientific evidence you can refer to the following or google Boyles law of buoyancy. http://en.wikipedia.org/wiki/Buoyancy

But putting science aside, ONE can find a new found FREEDOM in the WATER...
Working with breath control and finding an internal rhythm, then linking their movements to that rhythm, one can experience JOY in the water where previously one may only have ever experienced FEAR...
Thus if you would like to learn to swim, or to put together a fitness program that does not include swimming but would still like to experience the therapeutic freedom that so many have found in the water feel free to contact me... As always I look forward to hearing from you. Bliss is only a step away. Come step into the RIVER, or the OCEAN or a POOL with me, and cross it confidently and comfortably!
I'd love to share this process with you, I guarantee you'll wonder why you waited for so long...
Bobi